I have something fun to share with you guys! I was approached by Whole Foods West Des Moines, to help share an awesome event they are running THIS week … Ready for Action Week.
Starting Monday, June 22nd thru Sunday, June 28th, Whole Foods will be celebrating the beginning of Summer with special offers, demonstrations and other fun events that support active lifestyles.
As part of Ready for Action Week, Whole Foods is selling a survival kit for $12. Each survival kit is a retail value of $50! The products in these bags, are items that will help you and your families have a fun, active Summer!
Starting at 10 am on Saturday, June 27th these kits will become available and will only be available until they are gone. There are limited quantities!
Check out what is inside!!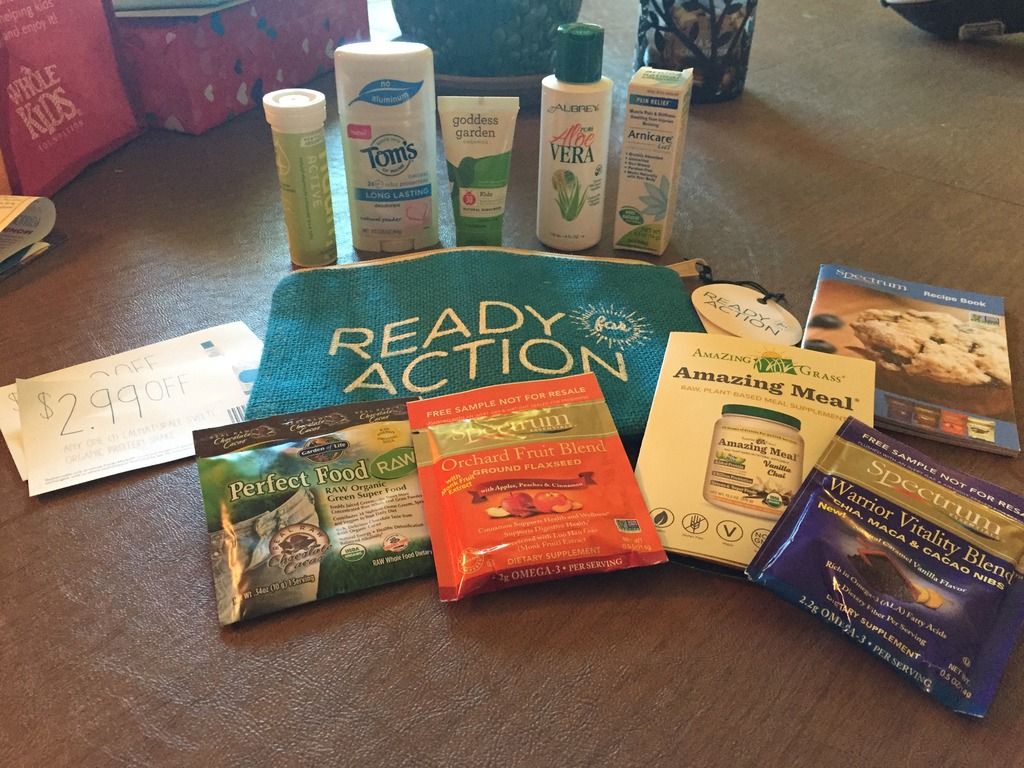 Toms of Maine Long Lasting Deodorant (2.25 oz) – Odor protection without aluminum or artificial fragrances.
Boiron Arnicare Gel (.5 oz) – Homeopathic gel for temporary relief of muscle pain and stiffness.
Goddess Garden Organics Natural Sunscreen SPF 30 (1 oz) – Sheer mineral sunscreen in a travel-size tube.
Aubrey Pure Aloe Vera (4 fluid oz) – Soothing and moisturizing for after-sun skincare. I already tested this out and loved it!
Amazing Grass Amazing Meal Vanilla Chai (.88 oz) – Raw, plant-based shake mix with protein, greens and probiotics.
Garden of Life Perfect Food Raw Organic Green Super Food: Real Raw Chocolate Cacao (.34 oz, 1 serving) – Delivers nutrition from 34 nutrient-dense greens, sprouts and vegetables.
Spectrum Essentials Seed Blend Packet (.5 – 7 oz) Orchard Fruit Blend, Savory Blend, Tropical Fruit Blend, Warrior Vitality Blend – Tasty seed blends deliver protein, fiber and 2g or more of omega -3s per serving.
Nuun Active Natural Electrolyte Enhanced Drink Tabs (10 tabs) – Electrolyte enhanced drink tabs without added sugar or artificial flavors.
RijiGreen Jute Bag – Hand-printed by a company committed to ending human trafficking.
Coupons! – Calinaturale Svelte Organic Protein Shake, Amazing Grass Amazing Meal (coupon & sample), Aubrey Pure Aloe Vera
Make sure you stop at your local Whole Foods on
Saturday, June 27th at 10 am to claim your Ready for Action bag!